How to apply for the award
APPLICATION FOR ROM
a. After gaining the required points as detailed in Part 2 on the rules page, the owner is to apply to the NZROM committee in writing or by email. Secretary's details can be found at the bottom of the page.
You need to include
1. ROM Award cards (scan or photocopy) which have been won at shows,
2. A suitable photograph of the dog, and
3. Copy or scan of NZKC registration certificate.
b. The award status ROM shall not be recognised until the ROM Certificate has been received by the owner.
c. There shall be only one original ROM Certificate for the owner and one for the breeder, copies of the certificate may be purchased by the new owner. The fee is $25-00 per certificate.
Click here for the application form.
Please note: NIBTC(A) cards previously awarded in New Zealand will be accepted as part of the application for this award.
To ensure continuity of the history of this award in NZ, the numbering of certificates will continue from the last NZROM awarded by the National Bull Terrier Council (Australia).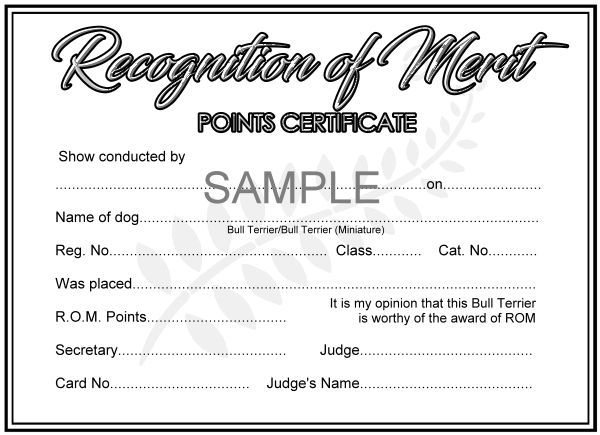 Contact Details
The Secretary
Heidi Holland